Rhubarb Tray Bake
The first-of-the-season fruit, rhubarb has a lovely sharp flavour. At Sharpham we grow it in the old-fashioned way, under terracotta cloches, which forces the stalks, making them slender, sweeter and more tender.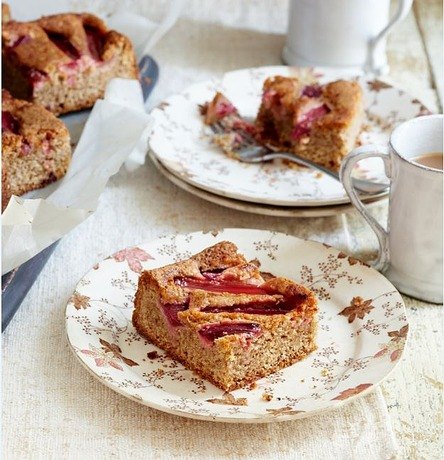 Makes 30 x 20cm / 12 x 8in traybake
Preparation Time: 15 mins
Cooking time: 50 mins

Ingredients

175g unsalted butter, softened, plus extra for greasing
6 sticks of rhubarb, chopped into 2.5cm chunks
270g golden caster sugar
grated zest and juice of 1 orange
3 eggs
175g Sharpham Park white spelt flour
75g Sharpham Park wholegrain spelt flour
75g ground almonds
2 tsp baking powder
1/4 tsp bicarbonate of soda
1 tsp ground cinnamon
1 tsp vanilla extract
1/4 tsp salt
150ml soured cream or Greek yoghurt

Method

Preheat the oven to 180C/Gas Mark 4 and lightly butter a 25x20cm/12x8in rectangular cake tin.
Put the rhubarb in a large saucepan and sprinkle with 2 tablespoons of the sugar and the orange juice, reserving the zest for the cake mixture. Bring to the boil, then simmer gently for 5 minutes. Leave to one side.

Beat together the butter and remaining sugar in a large bowl, using an electric mixer, until pale and fluffy. Add the eggs, including a spoonful of the white spelt flour with each egg to prevent the mix from splitting. Add the remaining flours with the ground almonds, baking powder, bicarbonate of soda, spices, salt and orange zest and blend together. Stir in the soured cream, using a large metal spoon, making a figure-of-eight motion in the mixture until it is fully combined. Spoon the mixture into the prepared cake tin and top with the rhubarb.

Bake in the centre of the oven for 35-45 minutes, or until the traybake is golden brown and firm to the touch. Cut into squares and serve with a spoonful of soured cream.

---

Don't forget to buy your Sharpham Park ingredients :

Sharpham Park Spelt Flours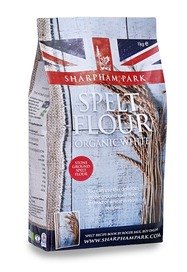 Buy Now >
---