Top 5 Restaurants that use Spelt
Spelt offers many benefits, in one simple package and it's making a comeback. Spelt has become a popular health food, largely in Spain, the United Kingdom, and other areas of Europe.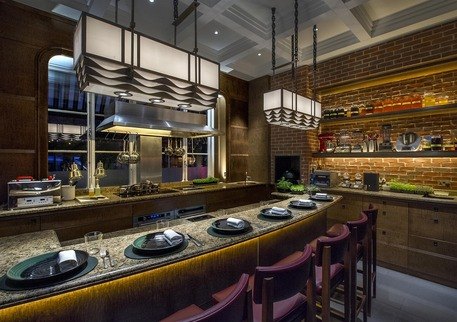 Image: Aulis in Fera at Claridge's
The whole grain is similar to that of wheat but is higher in protein. It also contains B vitamins which help break down and release energy from food, keep nerves and muscle tissue healthy as well as the skin, digestive system and eyes. Spelt absorbs flavours so well that restaurants are using it more and more across the UK.
Pearled spelt in particular makes a delicious risotto; you can also add it to soups, salads or casseroles.
Here are our favourite restaurants that use Sharpham Park spelt in their menus:
1. At The Chapel
Grade II Listed former chapel, located in Bruton, Someset, uses the best West Country produce and brings a relaxed Mediterranean approach to British food. Head Baker, Tom Hitchmough has been baking artisan bread with love and passion for almost two decades.
TOP PICK: Organic wholemeal spelt loaf, organic white spelt, rye sourdough, salt, yeast, honey
2. Claridge's

Encounter a truly unforgettable dining experience at Claridge's, the elegant hotel and restaurant with a modern British menu. Established in 1856, this iconic art-deco luxury is a theatrical destination for Londoners and they use Sharpham Park spelt throughout the kitchens.
3. Roth Bar and Grill
Led by husband and wife team Steve and Jules Horrell, Roth Bar & Grill combines gastronomy with contemporary art and is a vibrant, informal and convivial eating-place, serving honest, simple and seasonal food.
TOP PICK: Mackerel, heritage tomatoes, spelt, beetroot, aioli.
4. Pony and Trap
Located between the cities of Bristol and Bath, guests can enjoy unrivaled views of the Chew Valley. The menu changes daily however the in house bread is made using our spelt, all customers will get to taste a delicious selection.
5. The Bath Priory

At the heart of the hotel is Michelin-starred restaurant, with magnificent views across the hotel's award-winning gardens in the beautiful Bath countryside. The menu here focuses on fresh local produce, flavour and balance to create exciting, modern British dishes epitomising the best seasonal dining.
16 May 2017
< Back to all News Articles
---