We're celebrating Real Bread Week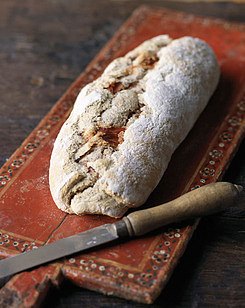 We are delighted to be celebrating
Real Bread Week (6-14th May 2017)
which is in its ninth annual celebration of supporting local, independent, additive-free bakeries and baking loaves at home.
Real Bread bakeries and baking schools around the world will be making sure this event is full of doughy delights. The aim is to encourage more people to bake additive-free loaves at home and we second this at Sharpham Park.
Our flour is the perfect way to get started as spelt locks in vital nutrients and maintains the freshness of the grain which contributes to its delicious flavour. We do not add additives or preservatives to our flour and we regularly test our crop to ensure that we produce the finest spelt flour available.
We want to everyone learning to bake Real Bread, whether at home, in a bakery or at school. You'd be amazed at the number of children who 'don't like wholemeal' but love it when it was lovingly made by their own mitts. Making bread is plenty of fun but it's also an important way to help avoid all of the artificial additives that are in industrial loaves.
Why not try your hand at our
spelt bread recipes
? Artisan bakers and supermarkets across Britain are turning to spelt because it's nutritious and tasty.
Our
Rosemary and Cheddar Soda Bread
is really easy to make and a family-friendly favourite that's great to share! Take a look at more
here
.

There are plenty of ways you can get involved in Real Bread Week this year from making a doughnation to spreading the campaign's message at a national level, via TV, radio and newspaper. Visit
sustainweb.org/realbread/
Tag
#
RealBreadWeek and @
sharphampark
on Instagram and Twitter and­­­­­­­­ show us your delicious creations.
3 May 2017
< Back to all News Articles
---