Green Spelt Risotto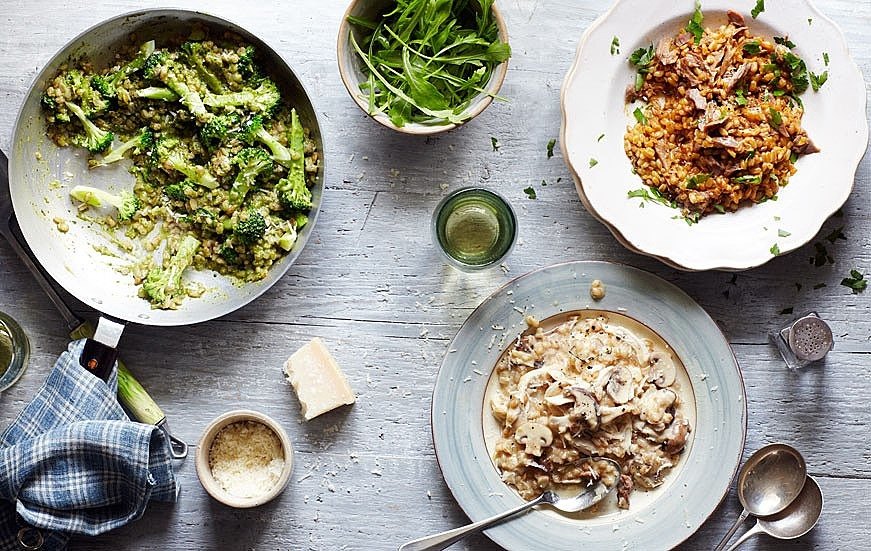 Serves: 4
PREPARATION TIME: 10 minutes
COOKING TIME: 25 minutes
Ingredients:
2 tbsp olive oil
3 shallots, finely chopped
200g/7oz/heaped 1 cup pearled spelt
200ml/7fl oz/scant 1 cup dry white or red wine
500ml/17fl oz/2 cups hot chicken or vegetable stock
50g/2oz unsalted butter, plus extra for finishing
4 tbsp walnut & basil pesto (see method below)

1 head of broccoli, chopped into florets and blanched
60g/21/4oz/2/3 cupfreshly grated Parmesan
sea salt and freshly ground black pepper
For the walnut & basil pesto:
125g/4½oz/scant 1 cup walnuts
1 garlic clove, crushed
100g/3½oz Parmesan cheese, freshly grated, plus extra to serve
50g/¾oz basil leaves (a big bunch)
100ml/3½fl oz/scant ½ cup extra virgin olive oil
juice of ½ small lemon
sea salt and freshly ground black pepper
Method:
How to make the walnut and basil pesto:
Put the walnuts and garlic in a food processor and process until finely chopped but still with some texture, so don't over-process. Add the Parmesan and basil and process again. With the motor running, gradually add the oil until the mixture is thick. Season with lemon juice, salt and pepper. Leave to one side.
To make the spelt risotto:
1. Start by making the risotto base. Heat the oil in a large frying pan over a medium heat. Add the shallots and fry for about 3 minutes until soft and translucent. Add the pearled spelt and gently saute for 2 minutes, stirring contstantly so the spelt is coated in the hot oil and doesn't stick to the pan. Add the wine and continue to stir.
2. Reduce the heat to a low simmer. Begin to add the chicken stock a little at a time, adding just enough to cover the pearled spelt, then waiting for it to absorb the liquid before adding more. Continue in this way for about 7 minutes until almost all the stock listed for the base has been absorbed.
3. Continue to simmer the risotto base in the pan, and the additional hot stock as you did before, waiting for a spoonful to be absorbed before adding more, until all the stock has been absorbed. Simmer for a few more minutes, if necessary until the pearled spelt is tender.
4. Add half the butter and the walnut pesto and sitr through. Season to taste with salt and pepper and stir the blanched broccoli into the risotto. Add the parmesan and the remaining butter, stirring so that all the ingredients are evenly distributed. Serve hot.
---
Don't forget to buy your Sharpham Park ingredients: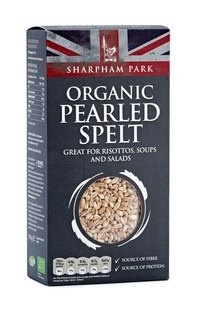 Organic Pearled Spelt
Buy Now >
< Back to all Recipes
---