Spelt Cooked In Ink With Squid & Herbs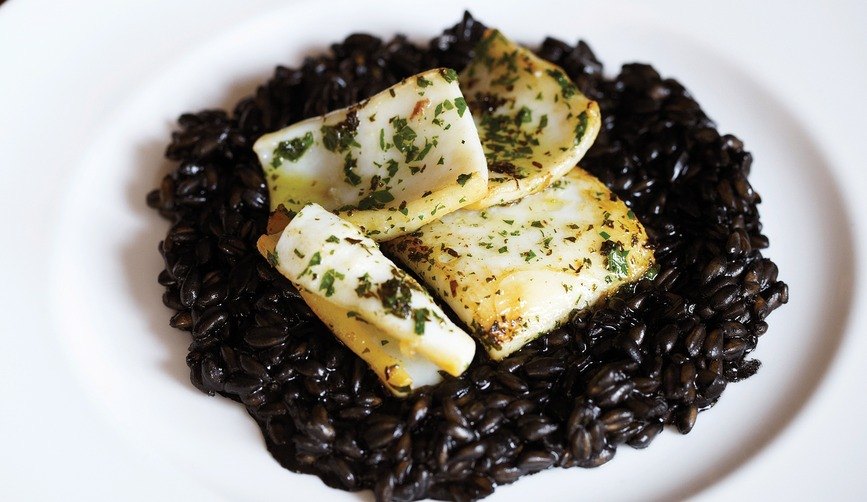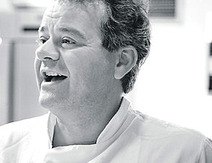 Kindly Donated by
Mark Hix
Ingredients:
Serves 4200g Pearled Spelt, soaked in cold water for 3-4 hours
2 tbsp rapeseed oil 50g

6 sachets squid ink (available to order from good fishmongers)
1ltr fish stock
120g butter

150g cleaned squid, cut into small, rough 2-3cm squares

1tbsp chopped hedgerow or three-cornered garlic or garlic chives
1tbsp chopped parsley

1tbsp chopped chervil
Serves 2


Method:
Heat the rapeseed oil in a heavy-bottomed saucepan, add the drained spelt and stir on a low heat for a minute or so, without allowing it to colour.

Add the squid ink, stir well, then slowly add the stock, a ladle or two at a time, ensuring that all the liquid has been absorbed before adding more, stirring constantly.

When the spelt is tender and cooked, stir in two-thirds of the butter and a little more of the stock if the risotto seems a bit too dry; the consistency should be wet but not runny. Meanwhile, heat a heavy frying pan with the rest of the butter and cook the squid on a high heat for a minute or so, then stir in the herbs.

To serve, spoon the spelt on to warmed serving plates and scatter the squid over.
---
Don't forget to buy your Sharpham Park ingredients :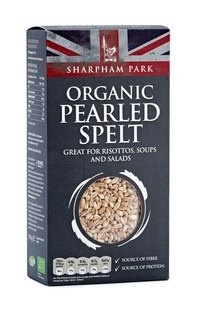 Organic Pearled Spelt
Buy Now >
< Back to all Recipes
---