Dark Chocolate Cauliflower Spelt Brownies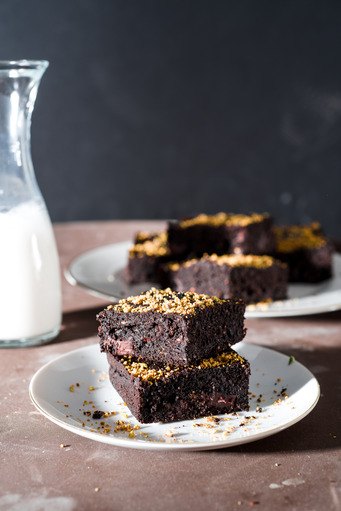 MAKES 9-12 brownies
COOK 30 minutes
Ingredients
1 cup cauliflower florets (5 ounces)
1/2 cup sweetened or unsweetened vanilla almond milk
1 teaspoon vanilla extract
3.25 ounces 70% dark chocolate, melted and cooled slightly
1/4 cup melted coconut oil
3 eggs
1/2 cup coconut sugar
1/2 cup unsalted and roasted pistachios, ground in a food processor until finely ground and no large pieces remain; reserve 1 tablespoon for topping
1/2 cup dark chocolate cocoa powder, spooned and leveled
3/4 cup Sharpham Park white spelt flour, spooned and leveled
1 teaspoon baking powder
1/4 teaspoon salt
2/3 cup dark chocolate chunks or chips
---
Method
1. Preheat oven to 350 degrees. Grease an 8-by-8-inch dark metal brownie pan with olive oil cooking spray.
2. Puree cauliflower, almond milk, and vanilla extract in blender until smooth. Add in melted dark chocolate, coconut oil, and eggs, and blend until smooth, about 30 seconds.
3. In a bowl, whisk together coconut sugar, ground pistachios, cocoa powder, spelt flour, baking powder, and salt until evenly combined.
4. Stir cauliflower mixture into dry ingredients until just combined (avoid over-stirring the batter). Stir in dark chocolate chunks until distributed.
5. Pour batter into baking pan; smooth top with spatula to evenly distribute batter.
6. Bake for 30 minutes, or until a toothpick in the center comes out clean.
7. Remove brownies from oven. Place on cooling rack, and sprinkle with remaining tablespoon of ground pistachios. Allow to cool completely before removing from pan.
This recipe also appeared in
Birmingham Magazine
Don't forget to buy your Sharpham Park ingredients :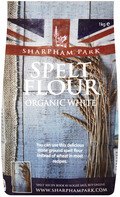 Organic White Spelt Flour
More info>
< Back to all Recipes
---