Frances Chelsea 'Flour' Show Bun Bouquet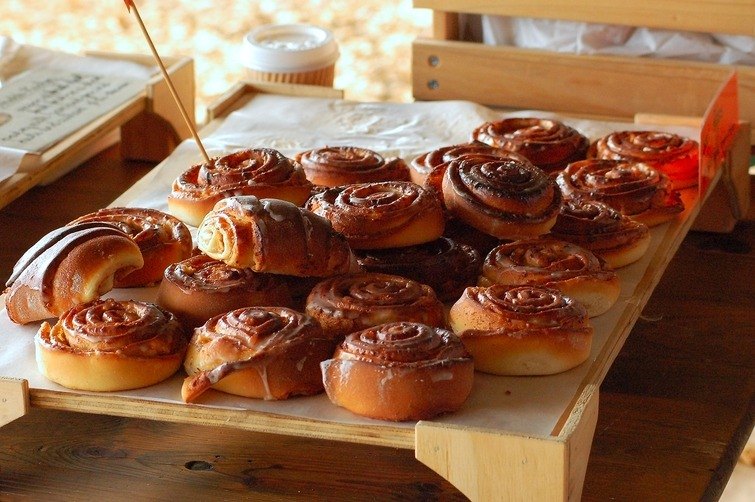 Kindly Donated by
Michela Chiappa
Ingredients:
Dough 150ml whole milk
150ml Soya Milk
50g unsalted butter, softened
500g white spelt flour, plus extra for dusting zest of 1 orange
1 Tbsp ground cardamon A few grinds of vanilla beans
10g quick yeast
8g salt 1
Tbsp/15g orange blossom honey
1 medium egg Fruit & Nut Filling
100g dried dark unsulphured apricots
Fairtrade Rooibos and Honey Tea Bags
100g dried sulphured apricots
2 Tbsp orange juice
1 Tbsp English Provender Orange Water
50g candied orange peel
50g almond kernels
1/4 tsp cinnamon
100g fresh apricots Marzipan1 egg- medium
50g orange blossom honey zest of 1 orange
1 tbsp orange juice
1 tsp orange blossom water
1 tsp vanilla extract
1/2 tsp almond extract
100g icing sugar
200g ground almonds unsalted butter, added to create paste for chelsea buns
Honeycomb
100g caster sugar
50g orange blossom honey squeeze
1 tsp bicarbonate of soda Glaze orange blossom honey
50g almond kernels
1/4 tsp cinnamon
100g fresh apricots Extras
200g Flaked Almonds
Marzipan bee wings and to scatter over the bread
Sugar Flair Tangerine Apricot paste Freeze dried raspberries 10g marzipan apricots Almond Kernels-marzipan apricots Dark Chocolate chips-marzipan bees stripes Fresh apricots - to use in display Vanilla dusting sugar Almond Oil apricots
Method:
Preheat the oven to 160C and line a loaf tin (approx 8 1/2 x 4 1/2 x 2 3/4) with parchment paper making sure enough paper goes over the edge of the loaf tin to help pull the loaf out once cooked.

In a large mixing bowl beat the eggs and sugar together until light and fluffy.

Add the flour, ground almonds, butter, baking powder and vanilla extract and mix well until all ingredients are combined.

Add the blackberries, walnuts and 3 tbs of the jam and gently mix until evenly distributed throughout the cake batter.

Spoon the cake mixture into the prepared loaf tin and bake for approx 90 mins or until a skewer inserted comes out clean.

Once cooked use the parchment paper to help lift the loaf out of the tin and let cool completely for at least 20-30mins.
---
Don't forget to buy your Sharpham Park ingredients :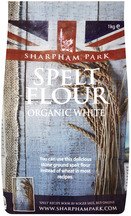 Organic White Spelt Flour
Buy Now >
< Back to all Recipes
---