No Added Sugar Carrot Cake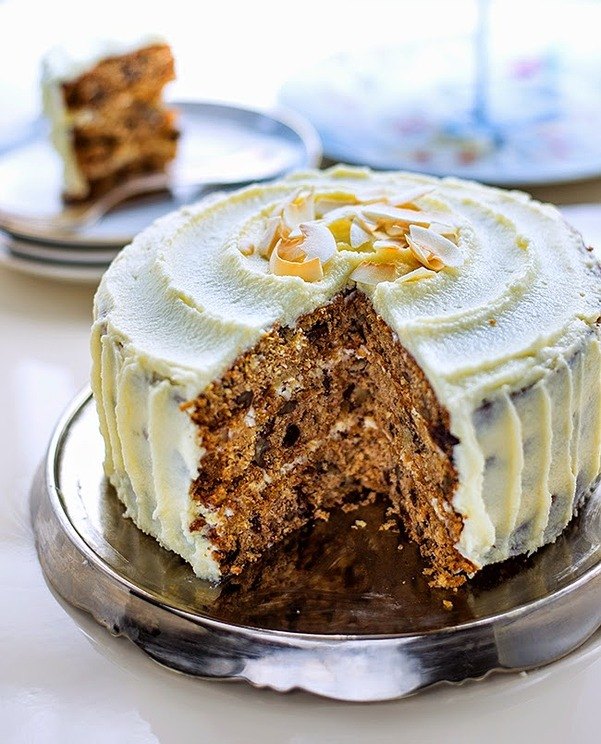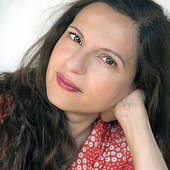 Kindly Donated by
Lucy Parissi

Ingredients:
For the frosting

2 large packages full fat cream cheese (total 500g or 16oz) or


a mix of full fat cream cheese and Mascarpone cheese

170g | 6oz unsalted butter, softened

80ml | 1/3 cup honey

80ml | 1/3 cup maple syrup

1-2 tsp fresh lemon juice

1 tsp vanilla extract (or paste)

For the cake

makes 2x23cm/9in layers or 3x20/8in layers

260g / 2 1/4 cups Sharpham Park White Spelt flour

100g 1 cup dessicated (flaked) coconut

1 tsp baking powder

1 1/2 tsp bicarbonate of soda

1/2 tsp salt

1 tsp ground cinnamon

1/2 tsp ground ginger

1/2 tsp ground nutmeg

1/4 tsp ground cloves

270ml | 1 cup + 2 tbsp coconut oil, melted (or vegetable oil)

3 large eggs

3 tsbp honey

200g | 2 packed cups grated carrot

226g | 1 8oz crushed pineapple, well drained

110g | 1 cup walnuts, coarsely chopped

140g | 1 cup raisins Zest of 1 orange Toasted coconut chips to decorate (optional)
Method:
Beat the cream cheese and butter together for several minutes until completely smooth.
Add the honey and vanilla extract and beat together.
Slowly add the maple syrup keeping an eye on the texture of the frosting. You want the frosting to be able to hold soft peaks.You can keep adding more honey, very gradually, if you want to increase the sweetness but be careful the frosting doesn't become too runny. Chill for a couple of hours before filling and frosting the cake.


Preheat the oven to 180C | 350F.

Grease and flour your cake tins (or spray with cake release).

Combine the flour, baking powder/ soda, salt, spices and coconut in very large bowl and mix together to combine.

Mix the oil and eggs in a measuring jug and pour into the flour.

Mix together with a wooden spoon.Add the honey, carrot and pineapple and mix once more until all the ingredients are well combined and no dry pockets lurk anywhere.

Add the raisins and walnuts and fold into the batter.

Divide into your prepared cake tins and level.

Bake for 35-40 minutes if you are making 3 layers and 45-55 if you are making two.

The cakes are ready when firm on top and a skewer inserted into the centre of each comes out clean.

Turn out of the tins carefully and cool on a wire rack.

Layer the cake with a generous amount of frosting and give it a quick crumb coating.

Chill for an hour and then add a final layer of frosting.
---
Don't forget to buy your Sharpham Park ingredients :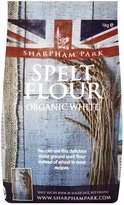 Organic White Spelt Flour
Buy Now >
< Back to all Recipes
---