Summer Raspberry Cake
The lovely nutty taste of spelt comes through in this fabulous summer cake that features two of my favourite ingredients - raspberries and almonds.
And as an added bonus, it doesn't have to be June to enjoy it, as autumn-fruiting raspberries are now widely available. You can vary this cake by using other fruits, such as blueberries or chopped rhubarb, making it perfect to adapt to whatever is in season at the time of year.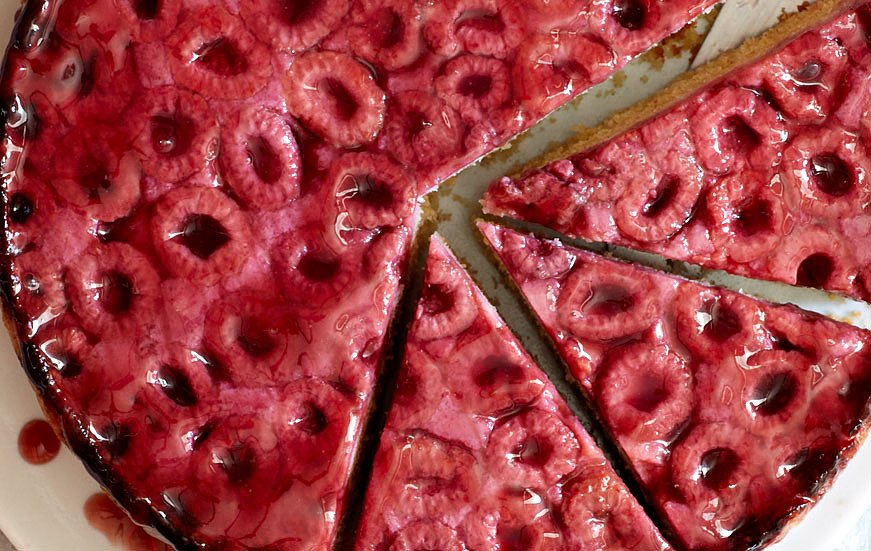 Makes: 23cm/9in cake
PREPARATION TIME:
20 minutes
COOKING TIME:
1 hour
Ingredients
175g/6oz unsalted butter, softened, plus extra for greasing

300g/10½oz/2 cups raspberries
175g/6oz/1 cup light soft brown sugar
1 tsp vanilla extract
2 eggs, lightly beaten
200g/7oz/1 ²/³ cups white spelt flour
100g/3½oz 1 cup ground almonds
2 tsp baking powder
¼ tsp sea salt

2 tbsp caster sugar or icing sugar, sifted, for sprinkling (optional)

double cream or crème fraîche to serve

Preheat the oven to 180°C/350°F/Gas 4 and grease and line a 23cm/9in round spring-form cake tin.Arrange the raspberries, hole-side down, across the base of the prepared tin, wedging them in so they are tightly packed. Reserve any left over.Beat together the butter and sugar in a large bowl, using an electric mixer, until pale and fluffy. Stir in the vanilla and the eggs, one at a time, adding a spoonful of the flour with each egg to prevent the mixture from splitting. Add the ground almonds and stir, then addthe remaining flour, baking powder and salt and stir through until the mixture is evenly blended and there are no major lumps of flour. Carefully fold in any remaining raspberries, stirring once or twice.Spoon the cake mixture into the prepared tin and smooth the top. Bake for 45-60 minutes, or until a skewer inserted in the centre comes out clean. Turn upside down onto a wire rack to cool.Sprinkle with caster or icing sugar, if you like, and serve with double cream or crème fraîche.
Don't forget to buy your Sharpham Park ingredients :

< Back to all Recipes
---