Walnut & Coffee Cake with Streusel Topping
Walnuts were originally planted by the abbots of Glastonbury and have always been part of Sharpham Park's farming economy.

We even found some hidden in a cavity in a stone wall in the house - with some chicken bones and clam shells - where a monk had obviously had a good lunch break 500 years ago! We planted 300 trees ten years ago to continue the tradition and now have a battle royal with the squirrels for ownership.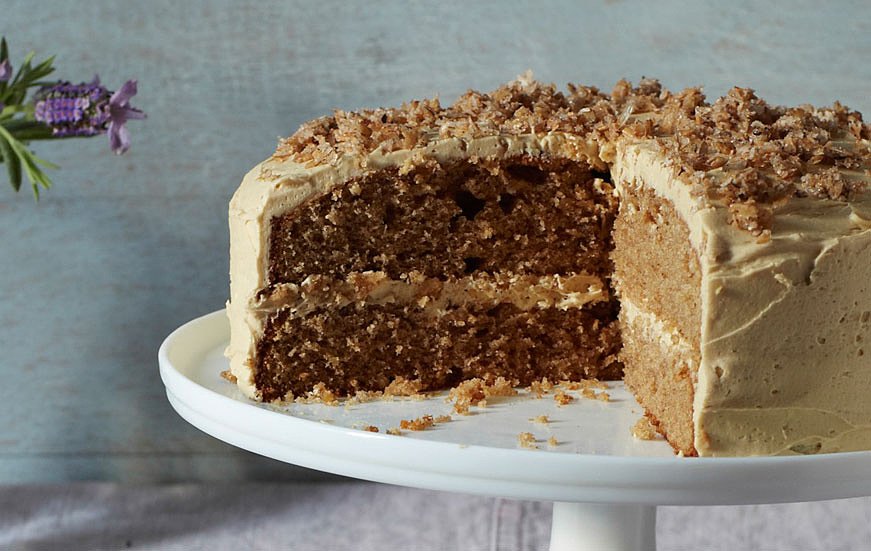 MAKES:
20cm/8in sandwich cake
PREPARATION TIME:
30 minutes, plus 20 minutes cooling
COOKING TIME:
1 hour
Ingredients
FOR THE WALNUT & COFFEE CAKE
90g/3¼oz/¾ cup walnut halves
3 tbsp sunflower oil
215g/7½oz unsalted butter, softened175g/6oz/scant 1 cup light soft brown sugar
1½ tbsp golden syrup
3 eggs
220g/7¾oz/1¾ cups whitespelt flour
2 tsp baking powder
¼ tsp sea salt
FOR THE COFFEE FILLING & ICING
175g/6oz unsalted butter, softened
250g/9oz/2 cups icing sugar, sifted1 tsp vanilla extract
1 espresso shot, or 3 tbsp strong coffee¼ tsp sea salt
FOR THE STREUSEL TOPPING
55g/2oz/heaped ½ cup spelt porridge flakes
55g/2oz unsalted butter, melted and cooled
55g/2oz/¼ cup demerara sugar
---
Methods/steps
Preheat the oven to 160°C/315°F/Gas 2-3.

Put the walnuts in a roasting tin and roast for 12-14 minutes until they are light brown. Remove from the oven and leave to cool, then tip into a blender, add the oil and blitz to a dry walnut paste.

Turn the oven temperature up to 170°C/325°F/Gas 3 and line two 20cm/8in round cake tins and a baking sheet with baking paper.

Beat together the butter and sugar in a large bowl, using an electric mixer, until pale and fluffy. Add the syrup, then the eggs, one at a time, followed by the roasted walnut paste. Mix the flour, baking powder and salt in a small bowl, then fold into the mixture. Divide the cake mixture equally between the prepared cake tins.

Bake for 30 minutes, or until the top looks golden brown and feels firm to the touch. If in doubt, a skewer inserted in the centre should come out clean. Transfer to a wire rack to cool.

While the cakes are cooling, turn the oven up to 180°C/350°F/Gas 4 and scatter the topping ingredients over the prepared baking sheet. Bake for 15 minutes, or until is crisp and golden brown in colour. Remove from the oven and allow to cool before using on the top of the cake.

To make the filling and icing, beat the butter in a large bowl, using an electric mixer, until soft, then gradually add the icing sugar and beat until pale and fluffy. Add the vanilla, espresso and salt and whisk again until fluffy. Spread about one-third of the creamed mixture on top of the first sponge cake, then place the second sponge on top. Spread the remaining mix over the top and around the side of the assembled cake and scatter the toasted streusel mixture on top to serve.


Extracted from Spelt by Roger Saul © Roger Saul 2015
Published by Nourish Books, London.
Hardback £16.99
Commissioned photography by Lara Holmes & Neil White

---
Don't forget to buy your Sharpham Park ingredients :

< Back to all Recipes
---