Chicken, Leek & Kale Pie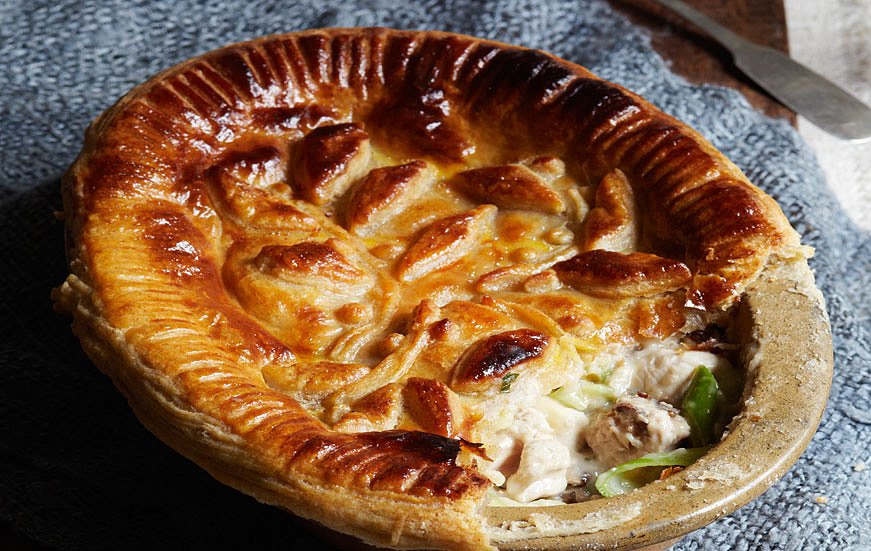 SERVES:
4
PREPARATION TIME:
40 minutes, plus making the pastry
COOKING TIME:
30 minutes
Ingredients for rough puff pastry:
500g/1lb 2oz/4 cups white spelt flour, plus extra for dusting
500g/1lb 2oz cold unsalted butter,finely diced
2 tsp sea salt
Method:
Mix together the flour, butter and salt in a large bowl, then gradually start to add 275ml/9 ½ fl oz/1 cup plus 1 tablespoon cold water and knead very gently until just incorporated. The dough should not be smooth. Shape the dough into a rectangle about 2cm/½in thick, wrap in cling film and chill in the fridge for 20 minutes to relax the pastry.
When rested, take the pastry from the fridge and roll out in one direction on a lightly floured work surface into a long rectangle. Fold the bottom up two-thirds and the top down one-third to meet the fold. Fold over exactly in half, as if you were closing a book.
Give the dough a 90-degree turn and repeat the process. Wrap in cling film and rest in the fridge for 20 more minutes to relax the pastry, then repeat the whole process twice more, or until there are no longer any streaks of butter in the pastry.
Chill the pastry for a final 20 minutes.
Ingredients for the filling:
2 chicken thighs, skinned and boned
4 prunes, pitted, preferably Agen
2 tsp Dijon mustard
55g/2oz unsalted butter
60g/2¼oz/½ cup white spelt flour
500ml/17fl oz/2 cups chicken stock
2 tbsp chopped parsley
a splash of dry sherry, such as fino or manzanilla (optional)
2 large leeks, trimmed and cut into 1cm/½in thick slices
2 large kale sprigs, spines removed, finely chopped
2 skinless, boneless chicken breasts, cut into chunks
a little milk or beaten egg, to glaze (optional)
sea salt and freshly ground black pepper c
Methods/steps:
Roll out the rested pastry on a lightly floured surface into a sheet or circle to fit the top of a deep oval pie dish with a rim. Keep the trimmings for other pastry items or for pie decorations.

To make the filling, put the thigh meat and prunes in a food processor with 1 teaspoon of the mustard, the salt and pepper. Pulse until chopped enough to form into small balls, shape them and set aside. Preheat the oven to 180°C/350°F/Gas 4.

Melt the butter in a large saucepan over a low heat. Add the flour and cook for about a minute, then slowly whisk in the stock. Add the remaining mustard and the chopped parsley, then season to taste with salt and pepper. A splash of sherry is also a good addition. Add the leeks to the sauce and simmer for a few minutes until starting to soften. The sauce should be reasonably thick but not gloopy. Add the kale and stir again.

Add the chunks of chicken breast and the thigh dumplings to the sauce and put into an ovenproof dish to which a pastry lid can be easily attached. Lay the rolled pastry on top and decorate with pastry trimmings if you feel the need or have the time. Brush with a little milk to glaze, if you like.

Bake for 30 minutes, or until the pastry is flaky and looks golden brown. Remove from the oven and allow to cool slightly before serving.

Extracted from Spelt by Roger Saul © Roger Saul 2015
Published by Nourish Books, London.
Hardback £16.99
Commissioned photography by Lara Holmes & Neil White

---
Don't forget to buy your Sharpham Park ingredients :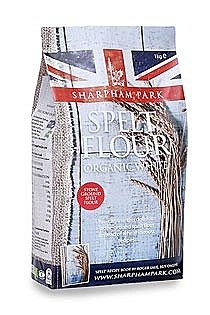 Organic Spelt
White Flour
Buy Now >
< Back to all Recipes
---