Spiced Spelt & Courgette Loaf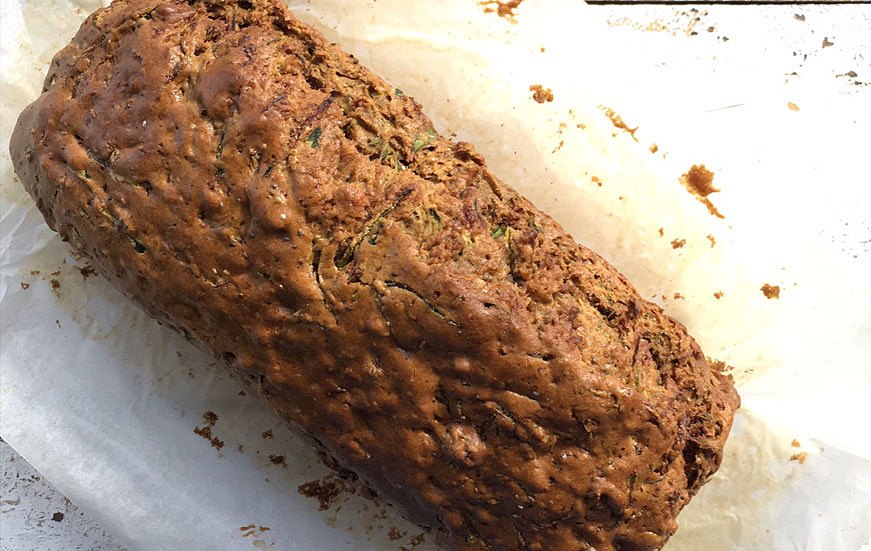 Ingredients:
300g spelt flour - white, wholegrain, or a combination

350g grated courgette (approximately 3 small courgettes)

90g of coconut palm sugar or soft brown sugar

2 tablespoons of chia seeds
1 teaspoon baking powder
1 teaspoon bicarbonate soda

A generous pinch of cinnamon a generous pinch of ginger

Freshly grated nutmeg a pinch of salt

2 eggs

125ml vegetable oil - a mild rapeseed oil is best

1 teaspoon vanilla extract

Method:
Preheat the oven to 180 degrees, on the fan setting, and make sure the oven rack is in the middle. Line a loaf tin with baking paper; I use a loaf tin that's 10 inches by 4.5 and it's perfect.
Start by top and tailing the courgettes, and coarsely grating; leave these to one side.
Next sieve the flour, bicarbonate soda and baking powder into a large mixing bowl, and combine with all the other dry ingredients, with the exception of the grated courgette.
Whisk together the eggs, vegetable oil and vanilla extract. Make a well in the center of the dry ingredients, tip the grated courgette into this hollow, and pour on top the whisked eggs and oil, stirring as you do so.
Mix the batter just until all the ingredients are well combined. Tip this into the lined loaf tin, and bake in the middle of the preheated oven for 50 minutes. It should be golden, well risen, and springy to touch when cooked all the way through. If possible, don't open the oven during the cooking time or this will collapse the rising loaf.
Allow it to cool for ten minutes in the tin before transferring to a cooling rack. Allow it to cool completely before slicing, and enjoying with a cup of tea! It will last for up to 5 days if kept in a sealed container.
Don't forget to buy your Sharpham Park ingredients :

< Back to all Recipes
---