Sticky Toffee Pudding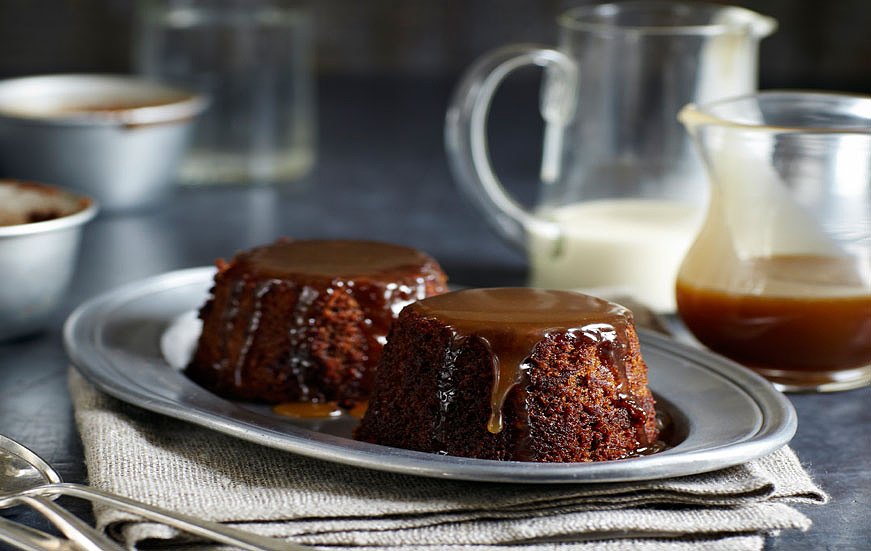 SERVES:
8
PREPARATION TIME:
15 minutes
COOKING TIME:
30 minutes for individual puddings. 5o minutes for a large pudding.
Ingredients:
FOR THE PUDDING:
50g/1¾oz unsalted butter, softened, plus extra for greasing
175g/6oz/scant 1¼ cups chopped pitted dates
1½ tsp black treacle
1½ tsp bicarbonate of soda
185g/6½oz/1 cup dark soft brown sugar
2 large eggs, lightly beaten
175g/6oz/1 1/3 cups white spelt flour
1 tsp baking powder
FOR THE STICKY TOFFEE SAUCE:
75g/2½oz unsalted butter
75g/2½oz/scant ¼ cup golden syrup
75g/2½oz/heaped 1/3 cup dark soft brown sugar
80ml/2½fl oz/ 1/3 cup double cream, plus extra to serve
Method:
Preheat the oven to 180°C/350°F/Gas 4 and grease eight 185ml/6fl oz/¾ cup pudding moulds, or a large ovenproof dish.
Put the dates, treacle, bicarbonate of soda and 250ml/9fl oz/1 cup cold water in a saucepan and bring to the boil. Remove from the heat and blend, using a hand-held blender or a blender, until completely smooth.
Beat together the butter and sugar, using an electric whisk, until pale and fluffy. Add the eggs one at a time, including a spoonful of the flour with each egg to prevent the mixture from splitting, beating well between each addition. Add the puréed date mixture, fold in the remaining flour and combine using a figure of eight motion with a large metal spoon or spatula. Don't beat the mixture or it will be tough.
Pour the mixture into the prepared moulds, filling about two-thirds full so that they have ample room to rise while baking. Bake for 20-30 minutes for individual puddings or 40-50 minutes for one large pudding until well risen and springy to the touch. Although the puddings are dark in colour, you will see that they also brown a little. Remove from the oven and leave to cool for 5-10 minutes before serving. (If you are going to use them another time, turn them out onto a wire rack and allow them to cool completely before wrapping and chilling.)
Meanwhile to make the sticky toffee sauce, put all the ingredients except the cream in a saucepan and bring to the boil. Remove from the heat and fold in the cream. Pour over the puddings and serve with
a little extra pouring cream for an extra-indulgent dessert.
Extracted from Spelt by Roger Saul © Roger Saul 2015
Published by Nourish Books, London.
Hardback £16.99
Commissioned photography by Lara Holmes & Neil White

---
Don't forget to buy your Sharpham Park ingredients :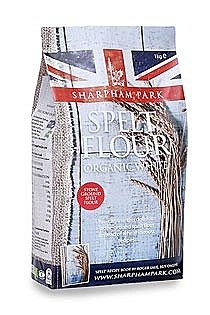 Organic Spelt
White Flour
Buy Now >
< Back to all Recipes
---