---
Try our tasty spelt porridge with 20% off throughout January!
A fabulously warming bowl of porridge with a low glycaemic index will keep you going until lunchtime. Loved by celebrity chef Rachel Khoo, our porridge is delicious served with honey, seeds or fresh berries.

Click here to buy.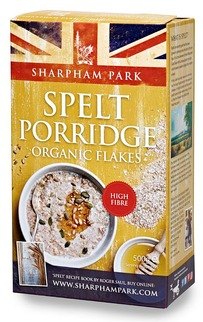 ---
Why choose spelt rather than conventional wheat flour?
There are many reasons for substituting spelt flour for wheat, not least its great taste and the benefits of adding a variety of grains to your diet.

Many people initially turn to spelt in search of a healthier diet but they keep eating it because it tastes so good. Bread made with spelt flour makes a delicious, light loaf, similar in colour and texture to light rye bread but with a slightly sweet, nutty flavour. You can also use it to make cakes and pastry. Why not give it a try?
---
---

SPELT COOKBOOK"
A delicious collection of recipes from the champion of spelt - Roger Saul"
WAS £16.99 -
NOW ONLY £13.99

Order your SPELT cookbook by Roger Saul >
Delicious Main Meals, Cakes, Cookies, Snacks & Breads all made with the Good Grain - Spelt.

---