squash and wild mushroom
pearled spelt risotto
A vegetarian recipe that celebrates the earthy flavours of spring, this Sharpham Park pearled spelt risotto is incredibly easy to make and a great midweek meal for the family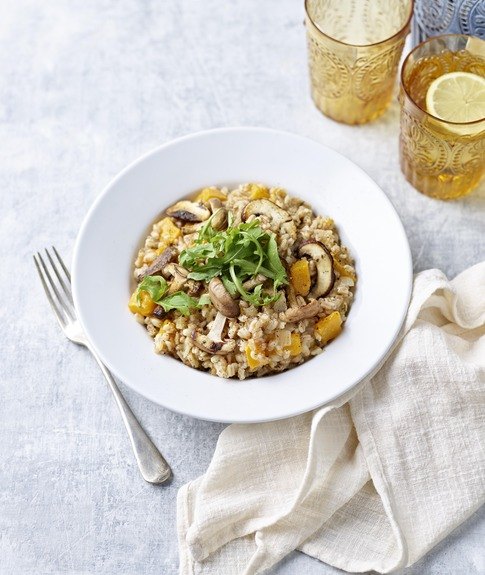 Ingredients...
350g butternut squash, peeled, deseeded and cubed
3 thyme sprigs, stalks discarded
2 tbsp oil
Salt and cracked black pepper
200g Sharpham Park Organic Pearled Spelt
Small knob of butter
1 onion, finely diced
1 garlic clove, crushed
800ml vegetable stock
150g mixed wild or chestnut mushrooms
To Serve:
Handful of rocket leaved
Parmesan

Method:
1. Preheat the oven to 200C/Gas mark 6.



2. Place the butternut squash and thyme in a roasting tin and drizzle with 1 tbsp of oil and season. Roast for 15 - 20 minutes until cooked. Remove from oven and set aside until later. Place the spelt in a sieve and rinse until the water runs clear.



3. Meanwhile, heat the remaining oil in a large pan along with a little butter. Gently fry the onion and garlic over a medium heat for 5 minutes until softened. Add the rinsed spelt to the pan and stir to coat in the oil.



4. Pour half the stock into the pan and gently simmer for approximately 10 minutes until the stock has been absorbed. Add the remaining stock and allow to cook for another 10 - 15 minutes, again until the stock has been absorbed.



5. In the last 5 minutes of cooking, add the cooked butternut squash to the risotto to warm through. Melt a little butter in a separate frying pan and roughly chop the mushrooms. Fry over a high heat for 3 - 5 minutes until the mushrooms are golden but still holding form.



6. To serve, spoon the risotto into bowls, and top with the fried mushrooms. Sprinkle over a handful of rocket leaves and finish with a generous grating of parmesan, salt and cracked black pepper.





---